October 13, 2023 -
"The cool autumn air, a warm cup of tea, while joyfully witnessing the coming together of people in the spirit of reconciliation," said Falynn Baptiste, a Cree-Metis singer and songwriter to begin a Facebook post describing the unveiling of a new ceremonial garden adjacent to Indigenous Christian Fellowship in Regina, Sask. 
Baptiste was one of approximately 130 people, including other performers, politicians, artists, and guest speakers, who gathered September 29 for the dedication and celebration of the garden. Indigenous Christian Fellowship (ICF), as described on its website, "is a Canadian Indigenous urban ministry serving the spiritual and social needs of Indian and Metis people." It's one of three such ministries supported by the Christian Reformed Church in North America. 
Image: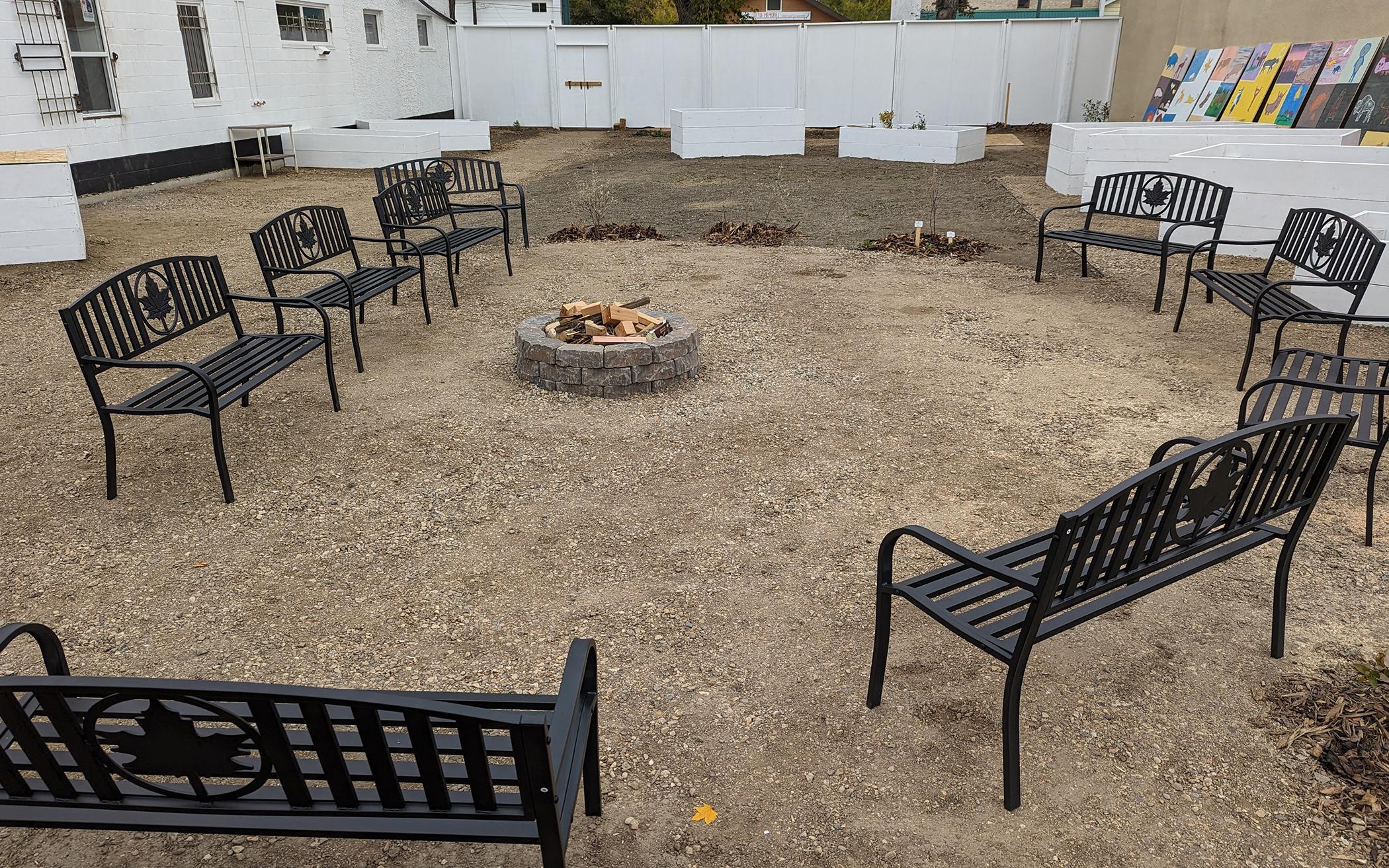 Indigenous Christian Fellowship's ceremonial garden includes benches, a fire pit, and planting boxes.
---
In December 2021, ICF had the opportunity to purchase the neglected lot adjoining its location on Dewdney Avenue in Regina. It took many donors, supporters, and volunteer hours to first remove the abandoned, half-buried rubble and contaminated soil that had been dumped onto the yard and then prepare the ceremonial garden to what it is today – an outdoor gathering space with benches, a fire pit, and plant boxes enclosed by high fences decorated with beautiful murals. The ceremonial garden is an ideal place for holding wakes and funerals, but it's not quite finished. 
"While we are ready to begin using the ceremonial garden for healing and reconciliation ceremonies and events," said pastor Bert Adema, ICF's executive director, "we look forward to the completion of additional murals on the inside walls, outdoor cooking facilities, and planting materials in the coming year." Adema hopes to see vegetables, native plants, and berries growing in the raised garden beds.
Image:
Al Postma, transitional executive director (Canada) of the CRCNA (left) with Indigenous Christian Fellowship executive director Bert Adema at the opening of the ceremonial garden.
---
Al Postma, transitional executive director (Canada) of the CRCNA, was one of several speakers. He said it was an honor to be invited to the dedication. "Being there gave me a sense of the richness of the ministry and the impact it is having. This ministry is a testimony to the CRC's longstanding commitment to Indigenous justice and reconciliation, and I'm grateful for new and fresh ways to live into that commitment together," he said.
Baptiste was joined on stage by George Tilsley. Other participating performers were Rev. Dennis Hendricksen of Christ Lutheran Church in Regina, Preston Littletent and Eagle Claw Drum Group, and Nathan Ottenson and Pamela Meunch. ICF arranged for the evening to be a replacement for its annual fundraising gala.