On a chilly Tuesday afternoon in late November, Pastor Kevin Van Wyhe drove his vehicle, hauling a trailer filled with items to pass out to people in a homeless camp, down a rutted, muddy two-track road paralleling the Grand River in Grand Rapids, Mich.
Van Wyhe, youth pastor of Heritage Christian Reformed Church in suburban Byron Center, has been working with people in several encampments scattered along the river since early summer.
To his surprise and delight, it has become a busy ministry.
"My goal is to build relationships and walk alongside people and share the gospel," said Van Wyhe whose wife, Kristy, rode with him to the camp.
"When I first started coming to the camps, they thought I was an undercover cop. Then when I kept coming, they thought I might be an undercover social worker. But then when I took a couple people to church, they realized I was a pastor," Van Wyhe said.
On this day Van Wyhe's trailer is filled with tarps, bicycles, propane heaters, and other items he has found or that have been donated by people from across West Michigan after his story was aired on a local TV station.
As his ministry has grown, his repeat visits have not gone unnoticed.
Amanda, a slender blond woman who this day accepted a bicycle, gloves, and hand warmers from the Van Wyhes, said, "These people are amazing. They really care about us. We've had people who might show up once or twice to give us blankets, but they never come back."
Visiting the camps, the pastor and his wife are doing their best to sustain those often forgotten by mainstream society for the hard weather of winter.
Also, Kevin spends lots of time sitting with folks and listening to their stories and slowly but surely offering them the hope of the gospel. A half dozen or so of those he calls "my friends by the river" are now regular attendees at Heritage CRC. 
One of them, a man called Dragon, climbed out of his tent, greeted the Van Wyhes and came over to talk. He said he landed in Grand Rapids a couple years ago from a small town to enter a substance abuse program, but he couldn't get in and ultimately became homeless.
When he met Kevin earlier this year, he was astounded that a pastor wanted to spend time talking to and getting to know him. 
"He has been an absolute miracle in my life," said Dragon, a tall man with a rugged, wind-burned face. "He has come to understand us. He is willing to care and be here with us."
Dealing with mental illness, substance abuse and other challenges, those without shelter so often feel forgotten by the Lord, said Van Wyhe, who has spoken about homelessness to youth groups and taken them to visit shelters or even sleep outdoors over the years. But he has never gotten as personally involved as he is now.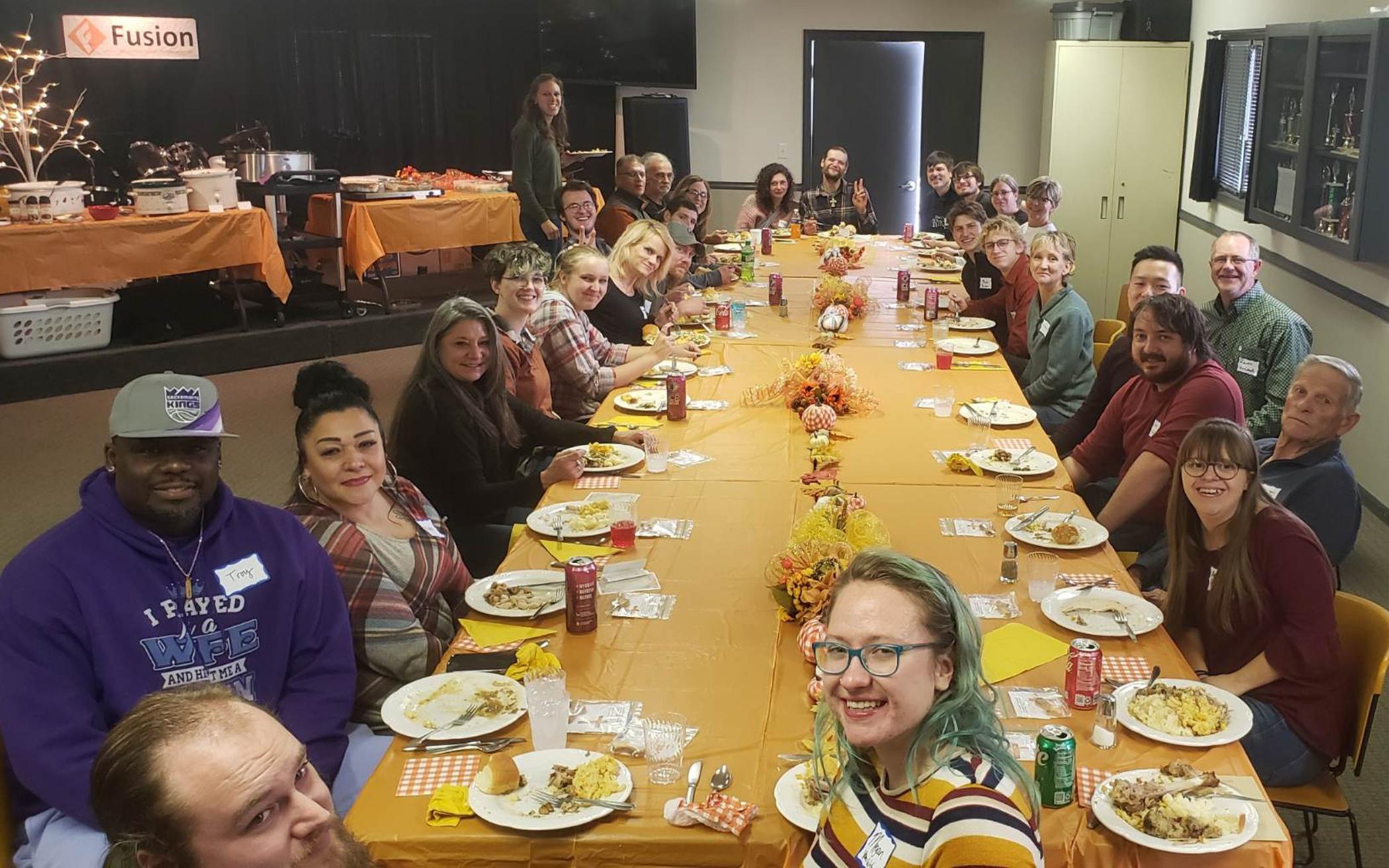 "The Lord is surely transforming these people who truly are the 'least of these' (the hungry, stranger, sick, and imprisoned of whom Jesus speaks in Matt. 25:40). They are my friends and I love them." 
Looking to the future, Van Wyhe hopes more of his friends by the river will visit his church where he already sees relationships growing. Invited by Van Wyhe, they feel welcomed by church members who in turn have the chance to open their hearts to those who, until now, might have seen but never known.
Related: Pastor Kevin Van Wyhe introduced some of his friends to his church family on his "Finding God Outdoors" video series. In a segment "2022.06.05 Finding God Outdoors- Loving the Least" Van Wyhe talks about how a bike ride through Millenium Park resulted in him meeting some of those camped there. He's been building relationships ever since.