The Loving Church has an aura that's not easy to put your finger on. It's certainly not calm or quiet. But it wouldn't be accurate to call it frantic either. It's almost comparable to a nice, smooth cup of coffee: it soothes and energizes all at the same time. The Loving Church is a Korean-American church in Tucson, Ariz., with a sizable unhoused population (roughly 40-60% of the church). Many would shudder to see the words "unhoused" and "sizable" so closely written, yet Pastor Rebecca Insuk Dunne embraces it. She sees it more as an opportunity than a burden. And it shows. 
Nov. 13 was a big day for Dunne and The Loving Church. It was the celebration of 10 years of ministry as a church, but was also Dunne's induction as a Commissioned Pastor in the Ko-Am Classis of the CRCNA. (See Korean Pastors Visit CRC Offices, Seminary; Complete Training on Path to Ministry in the CRC, Oct. 28, 2022.) Pastor Edward Yoon of Phoenix Korean Presbyterian Church joined the service to preach and lead the induction. As he ascended to the pulpit, he stirred the congregation with a loud, "God is good!" that provoked an electric response of, "All the time!" 
After a brief sermon about giving gratitude to God in all circumstances, Yoon led the ceremony for Dunne. In the eyes of God and her people, she affirmed her commitment to faithful teaching, pure doctrine, and pledged to care for the church. In response, the congregation spoke in unison as they affirmed their pastor on her statements.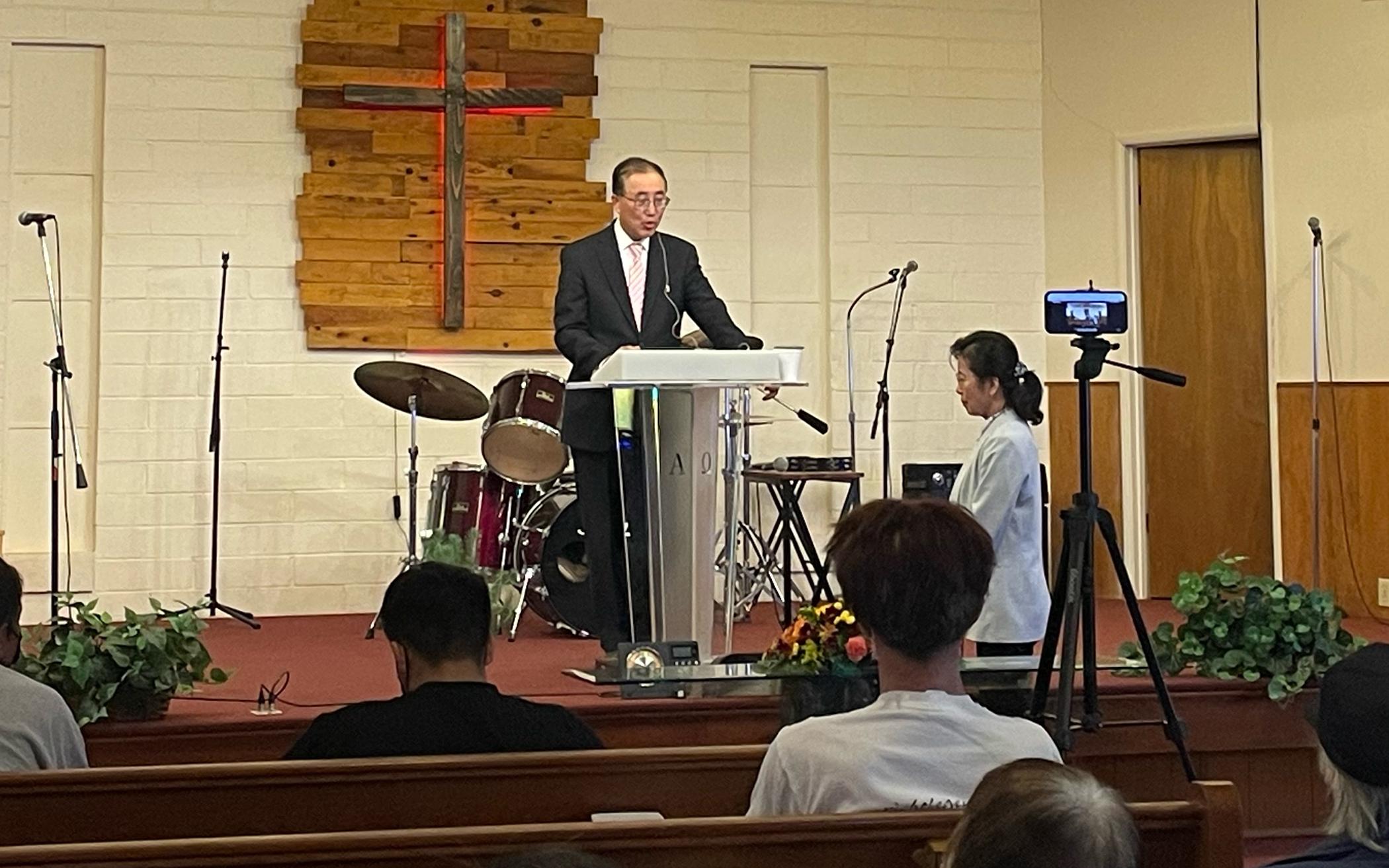 At the close of the service, a time of fellowship began in the church courtyard. Another Korean-American church, Church of the Cross from nearby Chandler, Ariz., was visiting to make dinner for everyone. They do so monthly, making a massive spread of fried rice, Korean dumplings, marinated beef, and noodles. 
On the opposite end of the courtyard, a church member had a barber's chair set up and was giving out free haircuts. A man stood nearby with a broom and dustpan, ready to pick up the fallen strands before the wind blew them away. 
The sense of community, friendship, and compassion were evident in warm greetings, loud proclamations, and tight embraces. The sermon was interspersed with shouts of "Amen!" and "Yes!" And everyone sang along to the worship—loudly, with hands raised. At dinner, everyone—Korean, white, young, old, well-off, unhoused—sat together. 
It's an atmosphere the church has nurtured since it formed in 2011, under the care of former Pastor Amos Joung, his wife, and Dunne, then an assistant pastor. They would venture out daily to several parks around the city, meeting people living without homes, speaking with them, and providing for some of their needs. Now years later, the church owns its own building in a midtown Tucson neighborhood. It opens up several times throughout the week to distribute food, supplies, and even offer showers. The church first affiliated with the CRCNA in 2018. Pastor Dunne has functioned as the interim pastor for several years since the previous pastor left on a long-term sabbatical. The transition was rocky at times and not without adversity. Yet she believes God has been faithful to her and her community, and she is excited to rekindle the church's connection to Classis Ko-Am. Dunne has struggled with the stories of how faith communities can treat those without homes. Her mission is to give them a place to "come, relax and meet the Lord"—to truly belong.